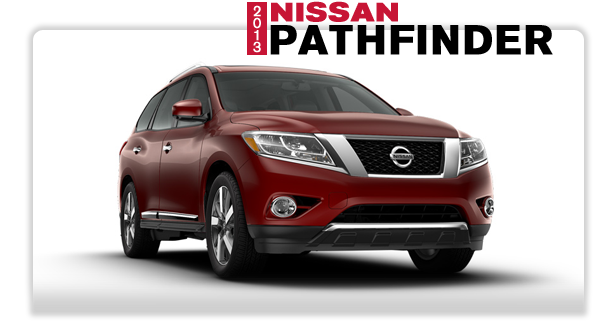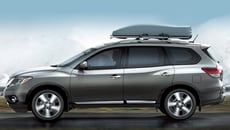 Buy the 2013 Nissan Pathfinder at Woodmen Nissan in Colorado Springs - The advantage is yours.
The Nissan Pathfinder, available at Woodmen Nissan dealership, has been an icon of adventure for more than a quarter century. With a progressive redesign that honors its enduring legacy and speaks to the modern world, the 2013 Nissan Pathfinder really lives up to its legendary name. Visit our Colorado Springs dealership today and test drive the 2013 Pathfinder. Our Nissan dealership serves Colorado Springs, Woodland Park, Stratmoor, Gleneagle, Colorado and beyond. If you are already the owner of a Nissan car, truck or SUV, consider Woodmen Nissan Service Center for quality car service, Nissan parts and maintenance. You may also choose to take advantage of our current specials - to save on new car sales, used car sales, car service and parts.
THE MOST INNOVATIVE PATHFINDER EVER. The world has changed. It's time your SUV did, too. Welcome to the Next Gen SUV, with the capability to help you take on whatever the day brings.You've got Intuitive 4-Wheel Drive to help you handle the most challenging conditions. And a class-exclusive Xtronic CVT transmission to ride a wave of V6power and pass the pumps with a best-in-class 26 MPG. A class-exclusive Around View Monitor to help you grab those challenging parking spaces. How about an innovative 2nd row that tilts and slides forward for easy access even with a child seat installed. And there's also best-in-class passenger room so everyone gets a great seat. That's an SUV for the real world. Introducing the all-new 2013 Nissan Pathfinder from Woodmen Nissan in Colorado Springs. The most innovative Pathfinder ever. Nissan. Innovation that excites.

YOU'VE GOT THE CAPABILITY TO SEE MORE WORLD. Intuitive 4WD. With Pathfinder's All-Mode 4x4-i, you've got a system that's capable on-road and off. And it's the only vehicle in its class with driver-selectable modes. All it takes is a turn of the knob. Choose full-time 2WD for maximum efficiency. Auto Mode constantly monitors conditions and adjusts the balance of power between front and rear wheels for best traction. And 4WD Lock Mode is your choice when you encounter terrain where you'd feel more confident with full-time 4WD. When you're on steeper paths, Pathfinder also features hill start assist to help give you control when starting and driving away on an incline.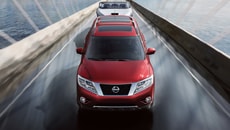 AND THE SMARTS TO SEE fewer GAS STATIONS.
Efficiency, brought to you by a Next-Generation Xtronic CVT Transmission. With Pathfinder's class-exclusive Xtronic CVT, you have a virtually gear less wonder that can hold the engine at the ideal rpm for the job, giving you a wave of power when you need it for towing, passing and quiet, efficient running when you don't. Proof. Pathfinder returns a best-in-class26 MPG highway. Power, courtesy of a 3.5-L V6 engine. Seven on board, a big beautiful boat in tow.This is the stuff that tests what an SUV is made of. Pathfinder takes it on with 260 hp of 3.5-L V6 muscle, and with the highest standard towing rating in its class, you can bring along 5,000 lbs. of toys.
NOW YOU'RE DRIVING AT A HIGHER ELEVATION. Welcome to first class. The most comfortable Pathfinder ever beckons you with premium comforts, including standard Tri-Zone Automatic Temperature Control, available heated and cooled front seats, heated 2nd-row seats, and even a class exclusive heated steering wheel. With the available Nissan Navigation System featuring Zagat Survey restaurant recommendations and live weather updates, plus available dual driver's seat memory system and Bose premium audio system, you may never want to ride in any other SUV again.
THE FEELING YOU CAN BRING EVERYONE. What good is a spacious 3rd row if you can't get to it? With the innovative EZ Flex Seating System, the 2nd row glides and tilts forward for easy access. Thanks to LATCH AND GLIDE technology, you can even move the 2nd row with a child seat securely installed. Add in a class exclusive reclining 3rd row and Pathfinder may just be the favorite SUV for everyone from kids to grandparents.
HANDLE ANYTHING. When it comes to carrying cargo, Pathfinder makes easy work of it, with folding 2nd and 3rd-row seats that create a virtually flat floor and up to 79.8 cubic feet of cargo space. There's also an under-floor storage area that keeps valuables out of sight. It's easily accessed whether the 3rd row is folded or upright, giving added cargo room even when you carry seven passengers.
SEE THINGS YOU'VE SEEN BEFORE. Tri-Zone Entertainment. If you've ever taken a trip with a few kids, you probably know it's hard to please everyone. With Pathfinder's available Tri-Zone Entertainment System, you've got a fighting chance. The rear monitors can play individually, giving a choice of DVD, video games, photos and more, while those in the front seats can enjoy their own choice of entertainment.Around View Monitor. A rear view camera is great when you're maneuvering into a tight space. Now, with Pathfinder's class-exclusive Around View Monitor, you have not one, but four wide-angle cameras as your helpful spotters. Which helps make you a parallel parking ace. So quit circling the block -that space is yours.
TECHNOLOGY FOR EVERY TURN, BUMP, STREAM, HILL.
Around View Monitor Using four cameras, the class-exclusive Around View Monitor creates a composite image of the 2013 Pathfinder from above and displays it on the touch-screen display. This helps visually confirm the vehicle's position relative to the lines around parking spaces and adjacent objects, allowing the driver to maneuver into parking spots with more ease.
IT EVEN COMES WITH A VIEW
Available Dual Panorama Moon roof Everywhere is big sky country in a Pathfinder. The dual panorama moon roof stretches over all three rows of seats. Whether you're in the city, on the highway, or cruising through the mountains, everyone has a great view.
Touch Screen Display
Think of it as Pathfinder's nerve-center, giving you total control from one spot. From the dash-mounted touchscreen display you'll control everything from the Nissan Navigation System, to the climate control system, and the Tri-Zone entertainment system. The Rear View Monitor and the class-exclusive Around View Monitor are also displayed on the touch-screen, making easy work of parking even when you've got a full load or you're towing something.
Advanced Drive-Assist Display
Keep your focus on what matters most-driving. Advanced Drive-Assist Display is a 4.2-inch color monitor sitting right in front of you in the gauge cluster. The customizable, easy-to-read screen displays front and rear power ratios, the trip computer, tire pressure, fuel economy, external temperature, and much more.
Nissan Navigation System
Start your adventure with an available touch-screen hard-drive navigation system with voice-recognition capability. Nav Traffic provides color-coded, real-time traffic advisories to help you beat the rush. The Nav System stores five million points of interest, plus Zagat Survey ratings for nearby restaurants. 3D Birdview™ gives you a real world perspective of where you are and where you are going, and real time weather updates tell you what it's going to be like when you get there.
Tire Pressure Monitoring System (TPMS) with Easy-Fill Tire Alert
Pathfinder's tires actually tell you when they need topping-up, and then when they've got enough. The class-exclusive Easy-Fill Tire Alert system lights up a simple icon on the dash when they're low, and then you'll get a short beep of the horn when you've filled them to the correct pressure.
Nissan Intelligent Key
With a Nissan Intelligent Key, you can unlock all four doors, open the power lift gate, and start the engine without taking the keys out of your pocket. It's even smart enough to move the driver's seat, steering wheel, and side-view mirrors to your pre-set positions.
Heated Steering Wheel and Heated & Cooled Seats
Old Man Winter never saw this one coming. Keep those hands toasty on even the coldest days with a class-exclusive optional heated steering wheel that warms up at the touch of a button. Leather seats are not a lot of fun on a hot day, and not much better on a cold one. Up front, Pathfinder's optional heated and cooled seats save you from stickiness by cooling down when it's hot out, and warming up when it's cold. We're not leaving the 2nd-row passengers out in the cold either-they get class-exclusive 2nd-row heated seats. Contact Woodmen Nissan dealership today and get more information on the new 2013 Nissan Pathfinder.