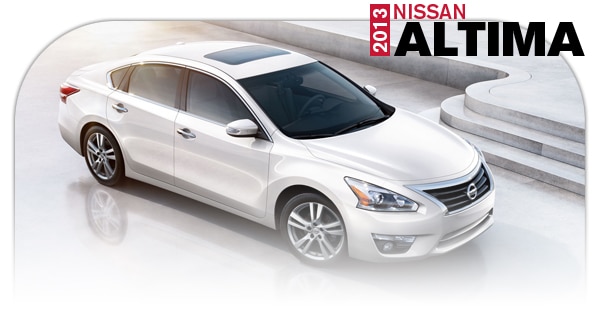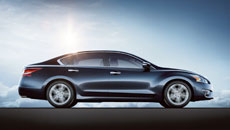 2013 NISSAN ALTIMA SEDAN - MORE FUEL EFFICIENT THAN EVER
With a smooth-shifting Xtronic CVT®, light, ultra-high strength steel, and improved aerodynamics, the all-new 2013 Nissan Altima targets 38 MPG highway.* Shop the entire new Nissan selection at Woodmen Nissan, including a large selection of 2013 Nissan Altima Sedans. Our Colorado Springs car dealer also provides a great selection of quality used cars for sale, lease or finance. We also offer many financing options as well as valuable special offers to save you money. Woodmen Nissan serves the Colorado Springs, Woodland Park, Stratmoor, and Gleneagle, Colorado areas. In addition to new and used car sales, our dealership also provide high-quality car service, maintenance and Nissan parts for all models.
Aerodynamics. We built the all-new 2013 Nissan Altima to slip through the air with more ease and less resistance than ever because frankly, drag is a drag.
Next Generation Xtronic CVT® According to the old school of thought, to improve performance, you just keep adding gears. CVT virtually eliminates them by using a single metal belt that runs around a pair of variable-diameter pulleys. Once a transmission isn't limited by fixed gears, it can operate far more effectively. So whatever your right foot asks for, CVT responds with the perfect engine speed.

PUREDRIVE™ Altima wears the PUREDRIVE™ badge, meaning it meets or exceeds the Federal CAFE fuel economy standards for 2016, reflecting our commitment to continue developing environmentally friendly technology for all.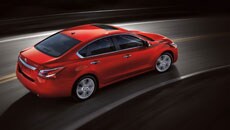 THROW IT A CURVE WITHOUT GETTING ONE BACK
To create the all-new 2013 Nissan Altima, we took a hard look at everything we knew about 4-door sedans. Performance, handling, technology. Everything. And then we did something truly innovative - we threw it out the window.
Multilink Rear Suspension. The all-new 2013 Nissan Altima's redesigned multilink rear suspension delivers instant steering response and maximum tire contact for handling that'll tackle the passing lane as easily as the carpool lane.
Active Understeer Control. The all-new 2013 Nissan Altima's Active Understeer Control system sets even the sharpest turn straight. It works by braking the inside wheels for better control through corners for a more confident feel behind the wheel.
Outstanding Acceleration. Accelerating in the all-new 2013 Nissan Altima will propel you from 0-WOW faster than you can say "hang on". Did we mention it's a 4-door sedan?
Performance Shocks. The all-new 2013 Nissan Altima comes equipped with ZF Sachs shock absorbers.You know, like the ones found on luxury cars from BMW, Mercedes-Benz, Lexus...Ya, those ones.
FINALLY, FLATTERY'LL GET YOU EVERYWHERE
Premium Exterior. Fit, finished design. Dynamic stance. Solid, quality appearance that goes way further than skin deep. That's the all-new 2013 Nissan Altima available now at Woodmen Nissan in Colorado.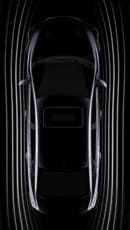 Minimized Wheel Gaps Is less really more? Absolutely. Especially when it comes to the all-new 2013 Nissan Altima's wheel gaps. By minimizing the spaces between the body and the wheels, Altima achieves a more tight, more athletic and more premium look.
Laser Measurement Can you measure class? Not unless you have a laser. Which is exactly why we laser-measured body-panel gaps to keep them 100% accurate and to keep the all-new 2013 Nissan Altima looking 100% premium.
Low, Wide Stance We built it low and wide so that even when standing still, the all-new 2013 Nissan Altima does anything but stand around.
ZERO-GRAVITY SEATS
NASA research, conducted in the weightlessness of space, determined that people have a natural seating position that optimizes comfort and reduces fatigue. Thanks for the tip guys.
FIRST-CLASS CABIN
Premium Interior. Open up to leather, wood and chrome accents[*], and the unprecedented comfort and style of the all-new 2013 Nissan Altima.
THINK OF IT AS CENTRAL COMMAND
Advanced Drive-Assist™ Display*. From turn-by-turn directions to caller identification, the new Advanced Drive-Assist Display does it for you in one central location. Its display is specially designed to make it easy for you to read quickly, allowing you to focus on what matters most - driving.
LOG ON AND TAKE OFF
NissanConnect*. The all-new 2013 Nissan Altima can be equipped with the available NissanConnect suite of technologies. Hands-free phone capability, streaming audio, hands-free text messaging, navigation and lots more, all accessible from Altima's centrally located screen. Contact Woodmen Nissan now.


NAVWEATHER*
NavWeather™ shows you the current weather conditions for your current vehicle location including temperature, humidity, wind speed & precipitation. You can also see the 5-day forecast. Change the location to see weather conditions for other locations.

SIRIUSXM™ SATELLITE RADIO*
Uplink to a galaxy of over 130 commercial-free music stations, talk radio, news and sports with Altima's available built-in SiriusXM Satellite Radio.

PANDORA*
Control the Pandora application on your iPhone® or iPod® using the audio system controls and display screen. Pandora is a free internet radio service that helps you find new music based on your old and current favorites. Touch the 'thumbs up' or 'thumbs down' icons to rate songs. Go to the Pandora Menu to display a list of available Pandora stations, bookmark the current song, or delete the current station.

HANDS-FREE TEXT MESSAGING ASSISTANT*
Keep your hands on the wheel and handle incoming text messages without having to look at your phone.

GOOGLE® SEND-TO-CAR*
Find your destination before you leave home! Using your favorite connected device, send any address to your Nissan Navigation System. When you start the car and connect to the network, the address will be delivered and loaded into your Nissan system for routing.

USB CONNECTION PORT*
Plug your iPod® into Altima using the convenient USB input and take your whole collection on the road. Steering-wheel-mounted controls put full command of every track right at your fingertips.

POIS POWERED BY GOOGLE®*
Find local businesses just like you would using the Internet. A connected Google® local business search is based on the latest information from Google® and is always up-to-date. Search for a destination without knowing the specific name or category - then save it or begin routing.

STREAMING AUDIO VIA BLUETOOTH®*
Wirelessly connect and stream music from your Bluetooth® compatible device through the Altima's sound system. Integration with your device means you can use it through the sound system controls.

BLUETOOTH® HANDS-FREE PHONE SYSTEM*
The Bluetooth® Hands-free Phone System activates via steering-wheel-mounted controls. Now you can keep up connections no matter where the road takes you.

NAVTRAFFIC*
Use the NavTraffic™ Menu to shows the closest traffic incident to your vehicle, regardless of routing status. You can view the 'On Route' list to see a list of traffic event information specific to your set route. Or the 'All' list to see a list of traffic event information regardless of routing status. Use the 'Avoid Road' option to select a road or segment of the route to avoid.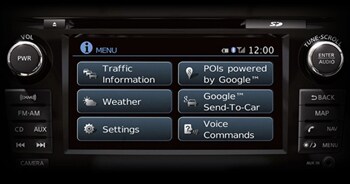 WE THOUGHT OF EVERYTHING SO YOU DON'T HAVE TO
Thoughtful Technologies. What if your car could tell you when its tires had enough air? If it warmed itself up or cooled itself down at the touch of a button? Or turned on the headlights automatically in the rain? Would you call it thoughtful, or simply brilliant?
ALTIMA'S GOT YOUR BACK
The Nissan Safety Shield includes over 50 safety features specifically designed to help take care of you. Standard air bags*, six of them, are there to help cushion the blow if one should occur. And every Altima includes the LATCH System for easier child seat installation. In addition, Altima can be equipped with Blind Spot Warning, Moving Object Detection and Lane Departure Warning systems.
BLIND SPOT WARNING*
When another vehicle is in your blind spot area, an indicator appears inside the door next to the side mirror and on the Advanced Driver Assist Display. Put your turn signal on, and the warning light illuminates, while a chime sounds to alert you.
LANE DEPARTURE WARNING*
Using the rearview camera to monitor the painted lines on the road, the Lane Departure Warning will give you both visual and audible alerts if it detects an unintentional straying from your lane.
MOVING OBJECT DETECTION*
If Altima's next-generation RearView Monitor system detects something moving behind your vehicle while in reverse, it gives both visual and audible alerts. You can even change the camera angle to get a wider perspective.
MODELS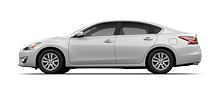 2.5 S
Bluetooth® Phone and Streaming Audio
Advanced Drive-Assist Display
Nissan Intelligent Key®
6-way power adjustable driver's seat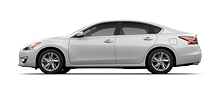 2.5 SV
Includes 2.5 S features plus:
17" Aluminum-alloy wheels
Remote Engine Start System
NissanConnect with 5" Color Display
Dual Zone Auto-temperature Control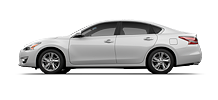 2.5 SL
Includes 2.5 SV features plus:
Leather-appointed seats
Bose® Premium Audio System
Heated Steering Wheel
Power sliding glass moonroof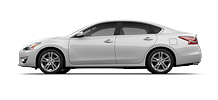 3.5 S
Includes 2.5 S features plus:
270-hp 3.5-liter V6 engine
Paddle shifters with manual mode
18" Aluminum-alloy wheels
3.5 SV
Includes 3.5 S features plus:
Power sliding glass moonroof
Dual-zone climate control
Remote Engine Start System
NissanConnect with 5" Color Display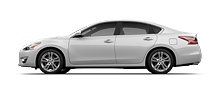 3.5 SL
Includes 3.5 SV features plus:
Xenon headlights
Leather-appointed seats
Bose® Premium Audio System
Heated Steering Wheel