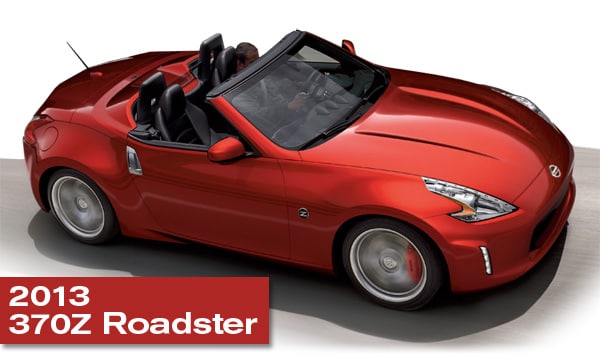 WOODMEN NISSAN DEALER IN COLORADO SPRINGS HAS A LARGE SELECTION OF 2013 370Z ROADSTERS AVAILABLE FOR SALE
There's a curvy road not far from town. A perfect place to hear a dual exhaust bounce 332 hp of pure adrenaline off a canyon wall. To feel the massive braking power of available 14" front discs as you set up for a tight hairpin turn. The feedback through the wheel and the seats as a dynamically balanced chassis just grips and grips and grips. A perfect downshift thanks to the world's only available rev-matching manual transmission. And somewhere along the way, find a scenic turnout, and just take in the aggressive new looks. Then fire up that legendary V6, stand on it, and you're gone. The 2013 370Z® Roadster is now available at Woodmen Nissan in Colorado Springs, CO. At Woodmen Nissan dealership we are proud to provide new Nissan sales, service and parts for customers throughout Colorado Springs, Woodland Park, Stratmoor, and Gleneagle, Colorado. Take a moment to explore all of our new Nissan inventory as well as our quality used car selection. Visit Woodmen Nissan today for a test drive or to learn more about our many products and services. You may also schedule a test drive or discover your financing options on our website. Take advantage of our valuable specials - exclusively offered at Woodmen Nissan.

---
---
LEGENDARY POWER
The 370Z® Roadster is powered by the 4th-generation VQ V6 engine. With 3.7-liter displacement for massive muscle, this 332-hp dynamo features advanced Variable Valve Event and Lift (VVEL) technology that continuously tunes valve lift and timing for quicker response and a broader torque curve, while optimizing fuel efficiency and reducing emissions. And while this extensive engineering may sound intriguing on paper, the exhilaration from idle to the 7,500-rpm redline on the straights or through the corners is pure magic. Visit Woodmen Nissan today for a test drive of the new 2013 370z Roadster.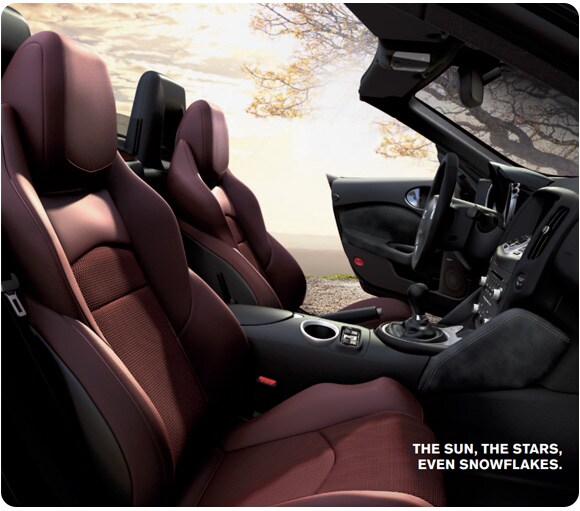 THE FEELING OF UNLIMITED POSSIBILITIES
Taste freedom as the breeze brushes your face. Hear the sound of 332 pure horsepower through a tuned exhaust. Embrace the sky as the Roadster folds its power top in about 20 seconds. Drop it from the cozy cockpit or even from the outside by pushing a button on the driver's door. It's time to rev up your senses.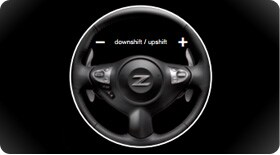 CONTROL AT YOUR FINGERTIPS
Want effortless cruising? Put the 7-speed automatic transmission in "D." For a quick gear change, just pull the steering column-mounted lightweight magnesium paddle shifters. In Manual mode, you get manual-style control with a nudge of the shift lever or a pull of the paddle shifters. The transmission can even hold a gear in cornering for better balance, or downshift before a corner for more effective braking. And when a downshift is needed, Downshift Rev Matching automatically opens the throttle to match the rpm for smoother gear changes.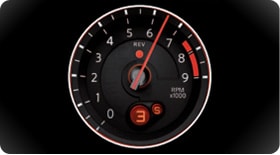 A WORLD'S FIRST
Included in the Sport Package, SynchroRev Match® technology the first in any production car monitors the 6-speed manual's clutch pedal, shift lever and vehicle speed. As you shift to a lower gear, the system will "blip" the throttle to the ideal engine rpm for a supremely smooth downshift as you let out the clutch. The system also works when upshifting to give you a smooth flow of power when accelerating.

Lightweight suspension components. The lighter a suspension's components, the more quickly it can react to the driver and bumps in the road. Use of strong yet lightweight aluminum makes the Z® suspension extremely responsive. Its double-wishbone front and 4-link rear design helps to keep the tires vertical to the ground, maximizing their contact patches. Dual flow pass shocks enhance control. And super-light forged 19 alloy wheels are available for even quicker response.

4-piston brake calipers on 14 front rotors. Balance doesn't just apply to cornering. Bringing the powerful Z® to a halt are its largest brakes ever available 14 front rotors, with the gripping power of 4-piston front calipers. Purpose-designed ducting helps to reduce fade and provide predictable and precise stopping power.

53/47 weight distribution. Some consider a static 50/50 balance to be the perfect weight distribution for handling. But Nissan engi-neers realized that a 53 front /47 rear static ratio is actually ideal. At the precise moment the driver accelerates out of a corner's apex, the weight distribution shifts rearward and becomes an approximate 50/50 balance. This translates into enhanced tire contact for better acceleration, quicker turns and a handling feel that's uniquely Z.

Vehicle Dynamic Control. A great sports car shouldn't just exhilarate, it should also inspire confidence. Vehicle Dynamic Control (VDC) on the 370Z Roadster® continuously monitors the speed of each wheel, steering angle, yaw, lateral G-forces and even braking pressure. It compares the data to the steered vehicle path and, if it senses the onset of plowing (understeer) or fishtailing (oversteer), VDC brakes individual wheels and/or reduces engine power to help keep you on your steered course.

High-performance protection. The Nissan Advanced Air Bag System includes dual-stage supplemental front air bags equipped with seat belt sensors and an occupant-classification sensor. These dual-stage air bags adjust their inflation rate, depending on the severity of impact and seat belt use. If the passenger seat is empty, a sensor actually deactivates that air bag. In addition, standard side-impact supplemental air bags are built into the seats, so they move with you as you adjust your seat. Standard curtain side-impact supplemental air bags (door-mounted on Roadster) help protect you and your passenger.

Seat belt technologies Utilize pretensioners to help tighten the belt when front air bags deploy. And if your body puts too much force on the belt, load limiters give a bit.

Active Head Restraints They help reduce the chance of whiplash injuries by moving up and forward toward your head during certain rear-end collisions.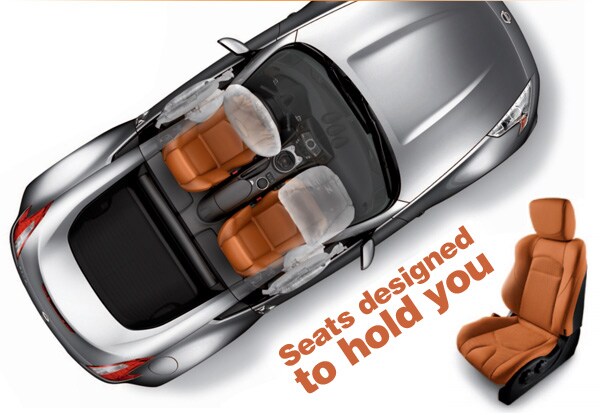 A place for everything. While it's fun to attack your favorite twisty road, a sports car also has to function in day-in, day-out driving. To keep things orderly, the 370Z® Roadster features three cup holders, a lockable glove compartment, dash-mounted storage (not available with navigation), parcel shelves behind both seats and a handy parcel box behind the passenger seat.

Seats designed to hold you. The 370Z® Roadster's driver seat shows how seriously we take every detail of driving. The upper seat-back has cutaway areas to help your arms move freely for steering and shifting. To let you work the pedals more easily, the lower seat cushions also feature cutaways. Along with aggressive side bolsters, the seat also features anti-slip materials to help hold you in place.

Coupe cargo area. Plenty of open space for the important things in life like sports gear. An available retractable cargo cover helps keep things out of sight.

Roadster trunk. A smartly designed convertible top means usable trunk space. Even with the top down, you can still fit a golf bag in the trunk.

The 370Z® Roadster keeps a strong connection to your world as well as the road. With the available Bose® audio system, you've got an amazing choice of entertainment to create a soundtrack for your drive. And with the available touch-screen voice-activated Nissan Hard Drive Navigation System, you've got so much more than just directions. Contact Woodman Nissan dealership today for more information or to test drive a new 370z Roadster.



Click here to learn more about the 2012 Nissan 370Z Roadster